ROG PNK LTD Gear [CES 2019]
It's 2019. Who would have thought we're still not over everything pink? At the recently concluded and much talked about Consumer Electronics Show 2019 (CES 2019), Asus introduced the very pretty ROG PNK LTD Gear. Yep, that's a bunch of powerful peripherals in gentle, soft colors.
In 2016, Rose Quartz and Serenity Blue were all over the place. It was, after all, the Pantone Colors of the Year. Everybody thought people would get over that and move on easily. Truth is, a lot of us are still in love with that gentle pink hue. Pink was such a strong pantone color that even in 2018, millenial pink and rose gold remain to be a much coveted color for gadgets, clothes, accessories, and almost everything else.
This 2019, Asus ROG proves that pink is not going away anytime soon. Yes, we're way past gender norms and assigning things as feminine and masculine. Pink is for everyone and everything.
The ROG PNK LTD line is said to haven been crafted from ROG's "desire to change things up by adding a little bit of flair to the products we already love." And flair it certainly has.
ROG Strix Flare in PINK!
Perhaps the most coveted (and probably most expensive) in the ROG PNK LTD Gear lineup is the ROG Strix Flare PNK LTD.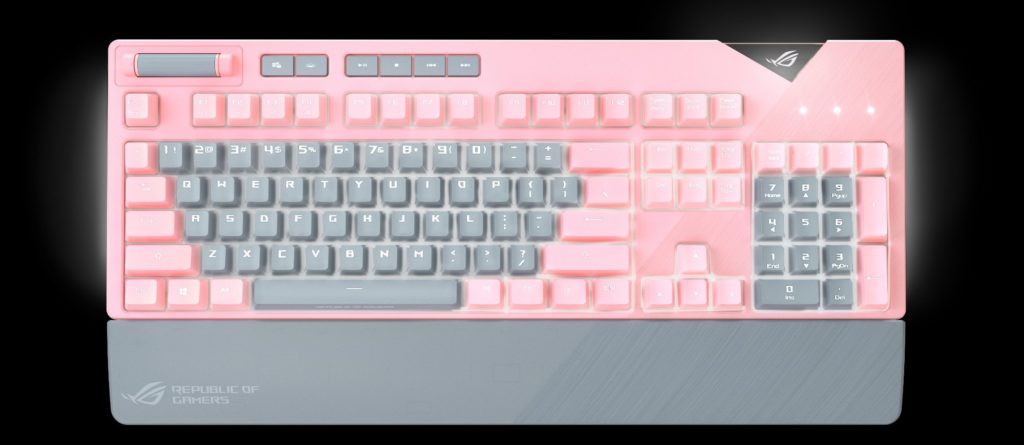 Pretty, yes? But pretty does not mean boring or weak. The ROG Strix Flare PNK LTD packs the same power, usability, and features as other ROG Strix Flare products.
It comes with the same easy-to-reach media controls on the left with a rubberized volume wheel, ridged for easy scrolling. It has a customizable acrylic insert comes emblazoned with the ROG logo that you can DIY with a blank insert that comes with the keyboard.
Of course it has the per-key RGB lighting can set to go all out on pink. It can also be set into rainbow of colors that can pulse with different effects.
A Pink Mouse? YES, PLEASE!
A pink keyboard goes well, with what else but a pink mouse?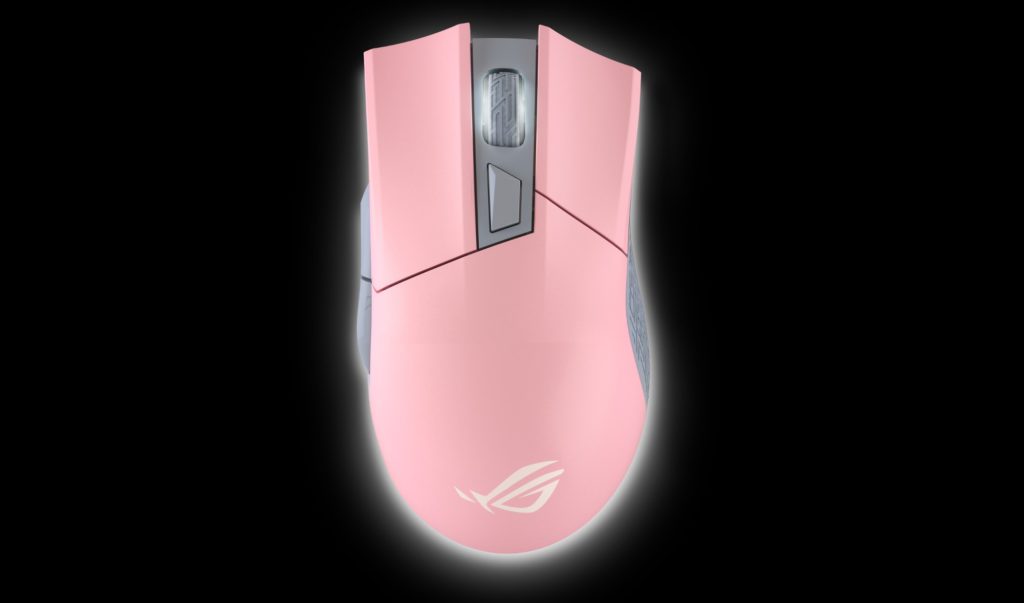 I mean… who would not love to work anywhere with that beauty?
Underneath the pink exterior, the ROG Gladius II Origin PNK LTD packs the same power and functionality as the ROG Gladius II Origin (that the PINK LTD PR funnily calls vanilla, hehe!).
It has the same PixArt 3360 optical sensor that can reach up to 12000 DPI. It has a dedicated DPI switch for easy transitioning between programmed settings for those who use their ROG for both play and work.
All the PNK LTD Gear are, needless to say, available for a limited time only. So the Gladius II Origins PNK LTD is built to last. Underneath the primary buttions are Omron switches rated for 50 million clicks. It comes with a durable braided cable and a second standard cable and pouch for bringing around the pink beauty. As I type this, I am trying to stop my brain from thinking about getting a ROG Gladius II Origins PINK LTD. Who is with me?
Let's hope ASUS comes up with another link of peripherals in pretty colors by the time your PINK LTD Gladius II wears out. Or better yet, buy more than one. Hoard away if you have the budget for it.
More ROG PNK LTD Gear
A great audio peripheral is a must for MOBA and multiplayer games.
The PNK LTD Strix 300 is the same gaming headset as the Strix 300. It has 50-mm ASUS Essence drivers and 7.1 virtual surround sound. The chamber design is airtight to seal air to reduce audio leakage and vibrations. It comes with both a USB cable and a regular 3.5 mm audio cable. So you can definitely use this with your smartphone, as well.
And to complete the lineup, there's also a pink ROG Sheath.
If you are going to buy all three above, complete your gear with this pretty little thing.
The PNK LTD Sheath mimics the design of the Strix Flare with a bold dividing line at angle from top to bottom , separating the pink from the grey. The pad has a pink border of reinforced stitching around the edge to limit fraying.
If you see me with this, it's not because I bought it to complete my PNK LTD Gear. It is probably because it is the only thing I can afford from the lineup.
PNK LTD Prices?
A quick search of the non-PNK LTD gear shows that the ROG Strix Flare is priced from PhP8,999 to as much as PhP15,599. An ROG Gladius II Ergonomic Optical Mouse is priced from PhP4,499 up to PhP4,780. A Strix Fusion 500 Headset is sold at the ROG Flasghip Store on Lazada for PhP8,800. And a Strix Edge Vertical Gaming Mouse Pad is priced at PhP1,585
All the ROG PNK LTD products are limited edition so it's safe to say all four will be sold at higher prices than their "vanilla" black counterparts. I am now saving up for that PNK LTD Gladius II which I guess could be priced as much as PhP6,000. Or maybe more? Who knows, really. Comment below with your guesstimates.
The ASUS ROG PR about the PNK LTD promises that these will all be available by March. So we have a little over a month to save up.
I am willing to bet that the new ROG PNK LTD Gear will be easily sold out everywhere. Well, everywhere where there are gamers with money, at least. ROG peripherals don't come cheap.
Let me know which ones you will be buying or at least coveting.
About ASUS ROG
For the uninitiated, ROG stands for Republic of Gamers. It was created by Asus in 2006. The brand is dedicated to creating "innovative hardcore hardware for truly dedicated gamers." Or for those who needs hardware with really good video and audio specs. It is a brand also highly recommended for video creators and media artists.
Read more about the ASUS ROG PNK LTD pink gaming peripherals at this link. To know more about all the other amazing tech from Asus ROG, click this link.
Do not forget to follow me on social media for more about tech, and other interesting stuff: Ria Jose on Facebook, @riajosedavao on Instagram, and @riajose on Twitter.
Check out these other blog posts about ROG at CES 2019: