11.11 PayMaya Cashback Deals
It's Singles Day! Yes, it's the much anticipated (but also dreaded) 11.11 when all digital shopping platforms go on sale. And our favorite brands offer big discounts. Most wallets and bank accounts (and their owners) are hit with great offers and irresistible discounts. But I have good news for you. You can enjoy rewards when you use PayMaya. Here are the 11.11 Lazada Cashback and other PayMaya Cashback Deals you can enjoy.
Shop with PayMaya
You can use your PayMaya Card to pay for your 11.11 Sale finds. Whether you buy online or instore.
There are several ways you can use PayMaya this 11.11. One is to use it as a debit card when you pay online. Make sure to use the PayMaya virtual card details on your app. You can use PayMaya for Lazada to enjoy a special Lazada 11.11 cashback offer.
You can also use your PayMaya virtual card to pay in other online stores, to grab those seat sale flights, to book rooms and tours. Basically, you can use it for almost all 11.11 deals and promos.
Second, you can load your Lazada wallet using PayMaya. I highly recommend this if you want to shop within a specific budget.
Third, you can use your PayMaya Black Visa Card as a debit card in stores everywhere debit cards are accepted.
PayMaya QR
Finally, you can Scan QR using your PayMaya app at selected PayMaya Store partners.
Shopping with PayMaya QR is cashless. Convenient. And secure. You do not have to share your card details at all.
Here in Davao, some merchants that accept PayMaya QR Payments include Octagon, Otterbox, Wiltelcom, The SM Store, True Value, Silicon Valley, Res|Toe|Run, Robinsons, The Travel Club, Fitflop, and Bratpack. You can check out the list of PayMaya QR Merchants at this link.
Lazada 11.11 Cashback and other Rewards
Shop and use PayMaya online and in store to get rewards.
Shop online or scan QR with PayMaya and get up to 100% cashback (maximum of PhP500) this 11.11. The minimum spend to get the cashback is only PhP100.
Earn more when you shop more. Shop an accumulated total of PhP5,000* online and pay with PayMaya to get additional cashback of PhP250. Enjoy another PhP250 cashback when you spend the same amount when you shop in store and pay by scanning QR.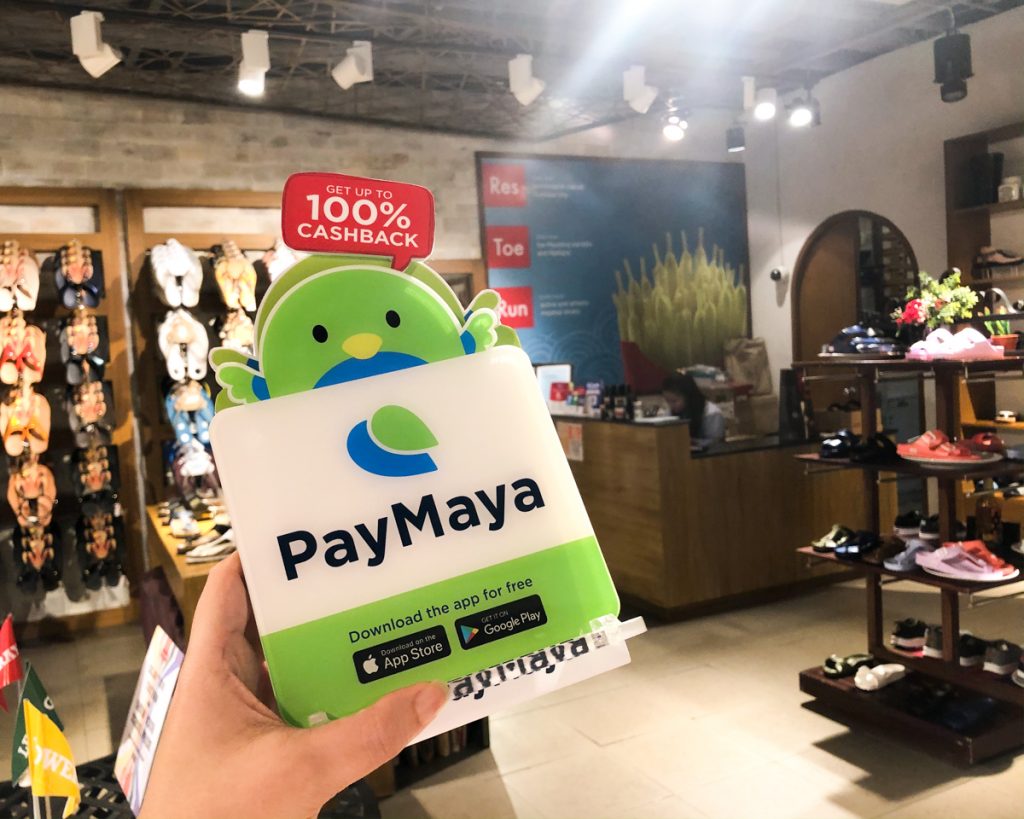 Enjoy more discounts when you shop at Lazada by simply redeeming a PayMaya voucher in the Lazada app. Get 25% off (maximum of PhP300) on your purchase of at least P1,000.
Learn more about PayMaya QR at the PayMaya Site.
What is PayMaya?
In case you do not have a PayMaya Account yet, it is an app that gives you a virtual prepaid card that you can use for online shopping, booking flights, paying for subscriptions and bills, and more.
PayMaya is the only end-to-end digital payments ecosystem enabler in the Philippines. It has platforms and services that cut across consumers, enterprises, communities, and government. Through its enterprise business, it is the leading payments processor for "everyday" merchants in key industries such as retail, food, transportation, utilities, and eCommerce.   
Through PayMaya, more than 38 million registered users have access to financial services through its consumer platforms. Customers can conveniently cash in, pay, cash out, and remit. It has over 300,000 digital touchpoints nationwide. Its Smart Padala by PayMaya network of 55,000 partner agent touchpoints nationwide serves as last-mile financial hubs in communities, providing the unbanked and underserved access to digital services.   
Download the PayMaya app on the Play Store or the App Store and sign up using your mobile number. Sign up for an account.
Use my Refer Code JX6YE1Z17314 to get a reward when you sign up. Plus, enjoy more rewards and cashback when you shop.
To know more about PayMaya's products and services, visit www.PayMaya.com or follow @PayMayaOfficial on Facebook, Twitter, and Instagram. 
Load up via 30 bank partners, transfer funds via the BPI App, or load via 711, and more than 40,000 PayMaya Add Money channels. And use PayMaya to pay for your 11.11 finds. Cashless. Convenient. Safe.
Lazada Stores and Recommendations
Thinking about shopping? We have the links to our favorite tech brands here.
Buy from these Flagship Stores to make sure you are buying from a legit seller and you get the what authentic products. Plus, yes, Lazada 11.11 cashback and PayMaya rewards.
11.11 Lazada Recommendation
My top recommendation would be my current Android smartphone, realme 5.
The realme 5 is called as the Quad Camera Power Master. It is currently on sale for only PhP6,690. That's a quad cam phone for less than PhP7,000. Buy it with Lazada to get the P300 discount. Plus, get the P250 Lazada 11.11 Cashback. Awesome.
Related Posts: realme 5 Unboxing and Specs | realme 5 Pro Unboxing and Specs
For more information about these deals and other PayMaya cashback rewards and promos, visit their deals page at paymaya.com/deals.
HAPPY SHOPPING! And enjoy your Lazada 11.11 Cashback and other PayMaya cashbacks.
Follow me on social media fb.com/DiyosaBlogger on Facebook, @riajosedavao on Instagram, and @riajose on Twitter for updates on new gadgets, tech news, sale alerts, and more. Subscribe to my Youtube channel at youtube.com/DiyosaLifeTV for unboxing videos of smartphones and gadgets.