Smart iPhone 11 Pre-Order Details
Excited to own the latest iPhone? Now you can have first dibs with Smart. All iPhone 11 models will be available at Smart Stores starting October 25. But to save you the hassle of lining up, pre-order now at smart.com.ph/Postpaid/iPhone11. Yes, you may now pre-order the iPhone 11, the iPhone 11 Pro, and the iPhone 11 Pro Max.
iPhone 11 Smart Signature Plans
Get the iPhone 11 with Smart Signature for a hassle-free, VIP postpaid experience. Smart Signature Plan holders are prioritised on Smart's award-winning network. You also get worry-free connections. Plus, you are in control of your digital lifestyle.
Pre-order your chosen iPhone 11 unit with the Smart Signature Device Plan L. It comes with monthly 15GB data, Unli AnyNet Texts, Unli On-Net Calls, and 150 min AnyNet Calls.
Smart offers the iPhone 11 (64GB) for Php2,499 per month for 24 months with a one-time cash-out of only Php7,000 under Smart Signature Device Plan L.
If you prefer the iPhone 11 Pro, get the 64GB variant for Php3,099 per month for 24 months. This requires a one-time cash-out of only Php11,500.
Finally, if you want the Smart iPhone 11 experience to the max, get the iPhone 11 Pro Max (64GB). It is available with Device Plan L for just Php3,299 per month for 24 months. The one-time cash-out for this is only Php12,910.
Signature Plan M
You can also easily get the iPhone 11 with affordable cash amortization options. This are available under Smart Signature Plan M. It comes with monthly 10GB data, Unli AnyNet Texts, Unli On-Net Calls, and 150 min AnyNet Calls.
Of course, you can also get the iPhone 11 via Plan Retention. Existing Smart Postpaid subscribers can simply charge their device cash-out to their monthly bill. No need to shell out cash upfront.
Why Get the iPhone 11?
Undecided if you need to upgrade?
All iPhone 11 units are packed with new powerful and innovative capabilities. Each unit and all new features are seamlessly integrated with iOS 13.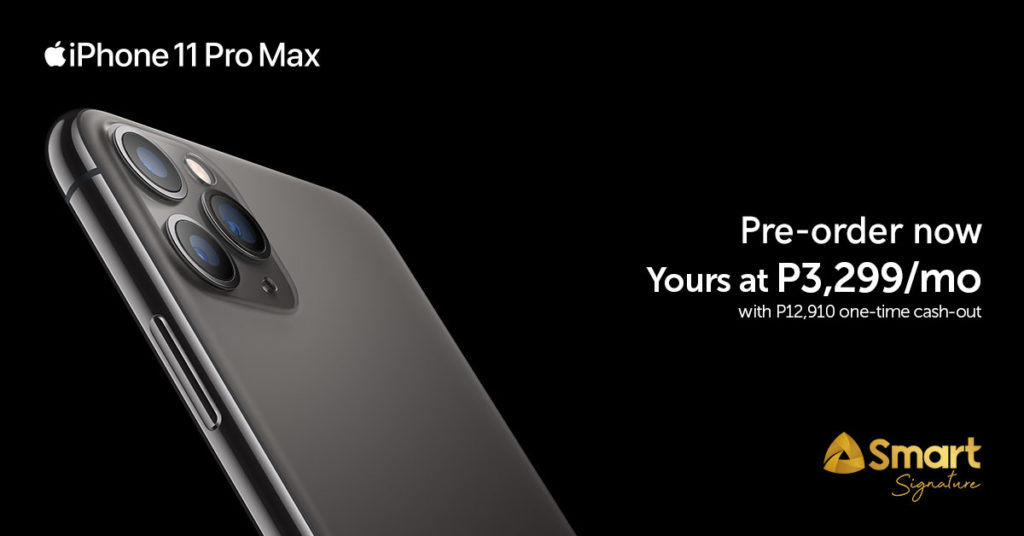 iPhone 11 introduces a new powerful dual-camera system to iPhones. It has all-new Ultra Wide and Wide angle cameras. These two new options are getting much praise from iPhone users. But among all its new features the improved low-light photography with Night mode is the one that is getting much attention. iPhone 11 comes in six new gorgeous colors including purple, green, yellow, black, white, and red. 
If you want an even more powerful iPhone, go for the iPhone 11 Pro or the Pro Max. Both feature a new triple-camera system that allows you to have a pro-level camera experience. It has an Ultra Wide, a Wide, and a Telephoto cameras. They also have the much lauded Night mode. And of course, the highest quality video in a smartphone for better social media stories and video uploads.
For iPhone users who want a better and improved photography and videography experience, the new iPhone 11 is a must-have.
Avail of Smart's iPhone 11 Pre-order Plans and Packages now at smart.com.ph/Postpaid/iPhone11.
About Smart
Enjoy the all new iPhones with the country's fastest mobile network Smart. Smart's speed is certified by third-party studies of world-renowned network analytics firms including Opensignal, Ookla, Tutela, and P3.
Smart is also the only mobile services provider in the Philippines that offers Carrier Billing for the App Store and Apple Music, among others. This is a safe, secure, and convenient payment method that enables Smart Postpaid subscribers to easily charge all Apple purchases to their mobile phone bill – eliminating the need for a credit card. To know more, visit https://smart.com.ph/Pages/apple-direct-billing.
Visit smart.com.ph/Postpaid/iPhone11 for more details on Smart pricing and data plans. Visit www.apple.com , for more details on Apple products.
Subscribe to my Youtube channel at youtube.com/DiyosaLifeTV for unboxing videos of smartphones and gadgets. And follow me on social media fb.com/DiyosaBlogger on Facebook, @riajosedavao on Instagram, and @riajose on Twitter for updates on new gadgets, tech news, sale alerts, and more.