Valorant players, rejoice. The AOC Masters 2020 Valorant Tournament is the global gaming stage you have been waiting for. Watch as teams from around the Philippines battle to represent the flag.
About AOC Masters 2020
AOC Masters 2020 is the first tournament of its kind. The tournament pits teams from the Asia-Pacific region. TeamGroup and AMD are on board with AOC for this year's much anticipated gaming event.
About Valorant
The first AOC Masters Tournament features Riot Games' Valorant.
Valorant is the newest esports title in Riot Games' roster. It is one of the most popular First-Person Shooter games on Twitch today. Valorant streams have over 1.73 million viewers.
AOC Masters Philippines
The Philippine leg of AOC Masters will pit VALORANT teams from around the country for a chance to win prizes. Even better, the Champion will get the rare chance to represent Philippines.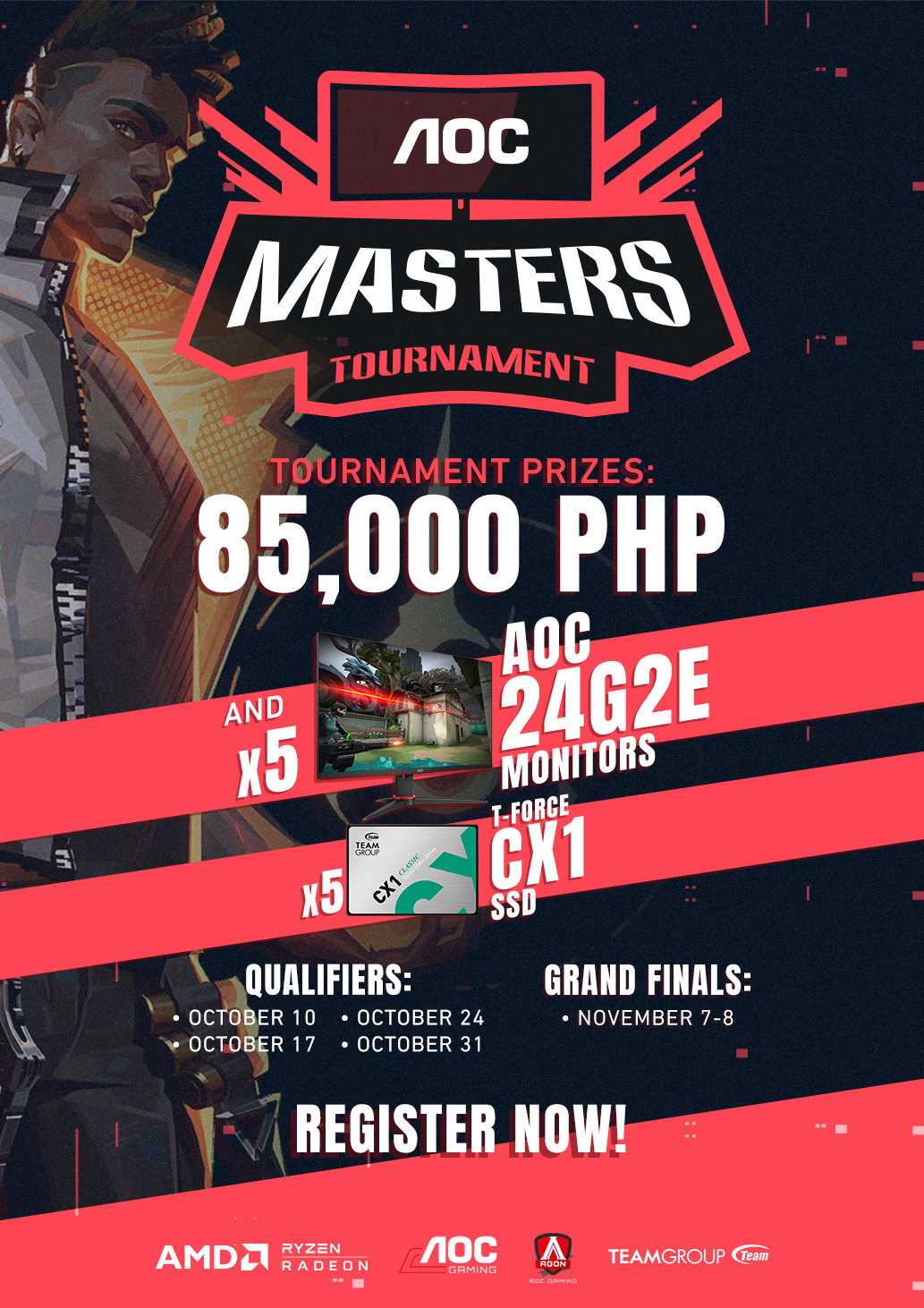 There are four qualifying tournaments on Saturdays of October 2020.
First Leg Tournament – October 10
Second Leg Tournament – October 17
Third Leg Tournament – October 24
Fourth Leg Tournament – October 31
Winners of the four qualifying tournaments will battle in Philippine Finals on November 7 and 8.
Champions of the AOC Masters 2020 will receive cash prizes from a prize pool woth PhP85,000. They will also take home prizes from AOC Monitors, TeamGroup, and AMD. Prizes include brand new 24G2E Gaming Monitors.
Also up for grabs is the pride of being Team Philippines. The Philippine champion will represent the flag at the AOC Masters Championship.
Watch the AOC Masters Philippines games live via the AOC Philippines Facebook Page at fb.com/AOCPHIL.
AOC Masters Championship
Team Philippines will play at the AOC Masters 2020 Valorant Tournament Championship on December 2020.
They will be up against the champions from Indonesia, Malaysia, Singapore, Taiwan, and Thailand.
Fans can join the excitement and cheer on their favorites. The AOC Masters Tournament will be broadcast online via Twitch, Youtube, and Facebook.
Through AOC Masters, AOC aims to make its mark in the gaming industry.
G2 Promo
AOC fans also get the chance to take home AOC G2 Gaming Monitors via exciting promotions during the tournament.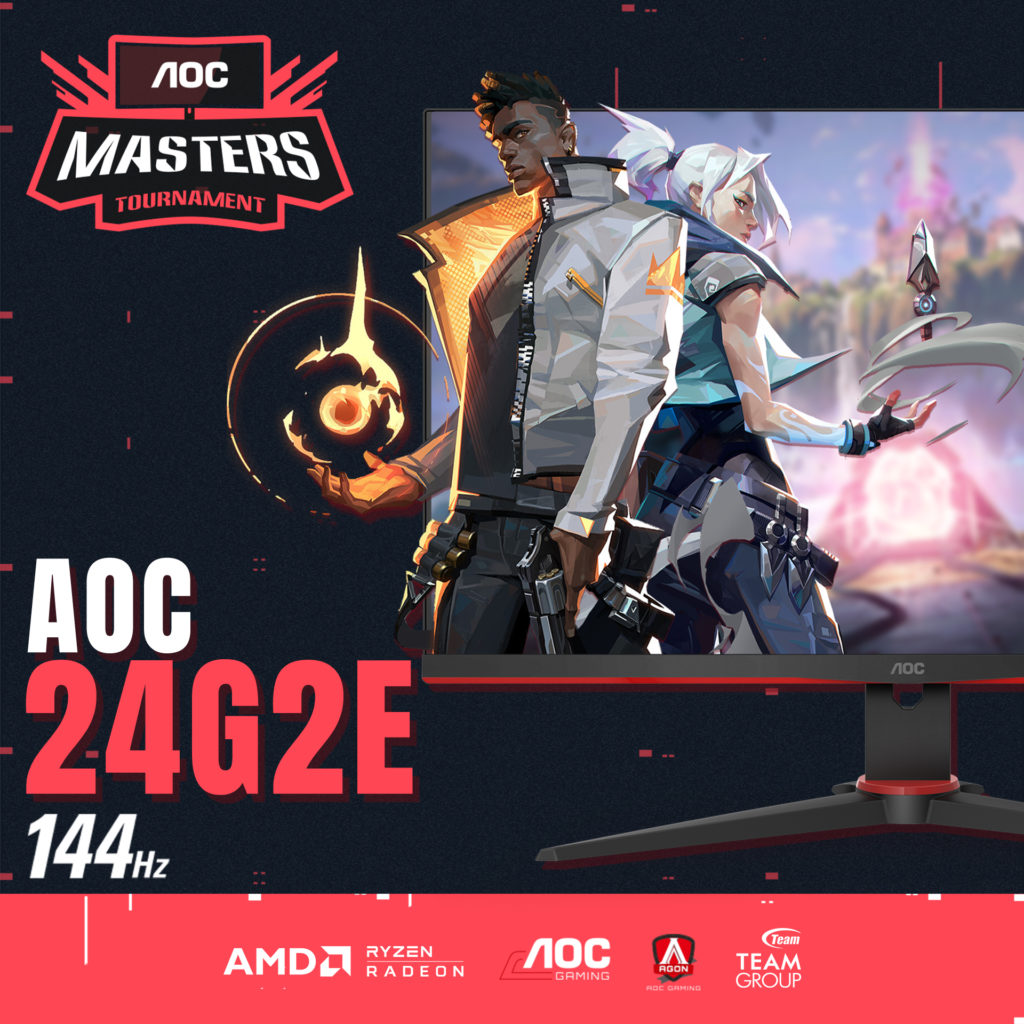 Every purchase of an AOC G2 Gaming Monitor, entitles the buyer to an exciting freebie. Read more about this G2 Gaming Monitor Promo.
About Agon
Agon is AOC gaming monitor brand. Named after the Ancient Greek word for "struggle" or "contest," the Agon brand represents AOC's engagement with the gaming industry. In addition to embracing new technologies, AOC has invested in sponsoring many leading esports events and teams.
Whether you're an esports professional or a casual gamer, Agon's
performance-driven specifications and features is the monitor to aid your path to glory.
About AOC
AOC is a market leader in electronic displays. Their monitors are sold in over 107 countries. The brand is one of the top global brands in providing the best display technology to users worldwide. With almost 50 years of experience, AOC is committed to designing products that address rising technological trends guided by consumer needs.
AOC's commitment is highlighted by its slogan: "Vision at Heart."
Learn more about AOC at aocmonitorap.com.
About AMD
AMD was founded in 1969 with just a few dozen employees. The company started with the vision to be the producer of leading-edge semiconductor products.
Today, it is a global company. AMD develops high-performance computing and visualization products. Their products are designed to solve some of the world's toughest and most interesting challenges.
About TeamGroup
Team Group Inc. was founded in Taiwan in 1997 by Chairman of the board, Mr. Danny Hsia. The headquarters was established with the aim of being a global leader in the R&D of the technology and in the manufacturing of memory products.
For unboxing videos of smartphones and gadgets, do not forget to subscribe to my Youtube channel at youtube.com/DiyosaLifeTV. And follow me on social media fb.com/DiyosaBlogger on Facebook, @riajosedavao on Instagram, and @riajose on Twitter for updates on new gadgets, tech news, sale alerts, and more.