SMART Offers FREE Instagram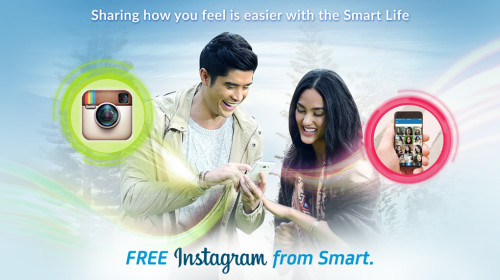 SMART Communications' millions of prepaid and postpaid subscribers can now enjoy free access to Instagram.
Instagram is one of the most popular social media platforms today. Through the app, users can share photographs throughout multiple social media platforms. This resonates with the Filipinos' need to share and connect with loved ones, every chance possible. Through pictures and other visuals, Instagram allows its users to share special moments, passions, thoughts and words, and even ideas.

Ariel P. Fermin, SMART Executive Vice President and Consumer Business Group Head explains that Filipinos are fond of Instagram because it allows users to share their lives with their families and friends. "It's more than just 'sharing', 'liking' or 'commenting'—Instagram is giving Filipinos the chance to preserve their precious memories in visual form, and Smart is proud to provide access to all of these anytime, everywhere through our innovative mobile services," says Fermin.
The #SMARTFreeIG promo is in line with SMART's efforts to give their subscribers a #SMARTLife. Through free access to IG sharing, connecting, and communication is now easier and cheaper.
Through #SMARTFreeIG, SMART subscribers will be able to browse their Instragram feeds and upload photos and videos from their mobile devices sans additional data charges.
For SMART Prepaid subscribers, free Instagram is free up to 30 mb per day for as ling as they are subscribed to popular prepaid promos like All Text 20, Unli Call & Text 30, All in 99, and Mega 250.
Meanwhile, for SMART Postpaid subscribers, free access to Instagram is automatically bundled with Smart's Surf Plus Plans.
For more information on Smart's Free Instagram offer, visit http://smart.com.ph/pages/freeinstagram.